TOPFIELD SRM-2100 MEDIA SOLUTION HDTV DVB-S, TWIN TUNER-500GB HDD
Reference recepteur numerique dvb : 9100907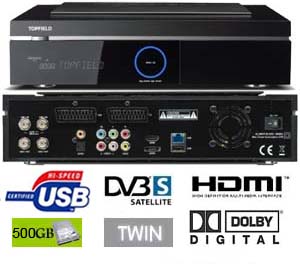 recepteur numerique dvb
recepteur numerique dvb
Caractéristiques du recepteur numerique dvb :
Is fully compliant with DVB-S and DVB-S2.
Supports DiSEqC 1.0, 1.1, 1.2 and USALS.
Can store up to 7,000 TV services and 3,000 radio services.
Displays Picture-In-Picture (PIP) with two HD services.
Supports time-shift up to 5 hours at maximum.
Records two services at the same time while displaying another service.
Can record directly to an external hard drive as well as the built-in hard drive (Using USB/eSATA ports).
Plays back recorded programmes at up to 64 times speed at maximum.
Plays back video files of DivX.
Displays image files of JPEG.
Provides a network game named BATTLE TANK.
Plays back media contents of Youtube.
Can search and view a image file in the Flickr.
Can see the weather of cities.
Provides various ways for firmware update (OTA, USB, LAN).
Enables you to use the receiver as a web server and a FTP server.
Supports MediaHighway EPG.

recepteur numerique dvb
Spécification Physique du recepteur numerique dvb :
Dimension du

recepteur numerique dvb

: 340 x 82 x 258 mm
Poids du

recepteur numerique dvb

3.8Kg
recepteur numerique dvb
recepteur numerique dvb
---
Toute la technologie au meilleur prix avec www.transplanet.fr
Photo non contractuelle, à titre d illustration seulement - Dans la limite des stocks disponibles
Le produit ne comprend pas forcément tous les éléments de la photo. Se référer à la fiche détaillée du produit pour plus d informations.

www.transplanet.fr
Siret 497 828 327 00013- APE 4791B
Ce site est déclaré à la CNIL sous le numéro 1247064
CODE TVA : FR 49 497 828 327